"Get To Know The Facts - And Find Out Why TachoMagic Really Is Magical."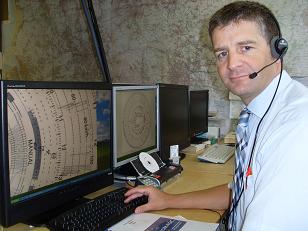 Duncan Horsfall MD

Tachograph expert and EU leading authority on Driver's hours legislation.
As the MD of 1 Call Driving Solutions employing over 100 HGV Drivers. When the "Working Time (Road Transport) Regulations" came into force in April 2005, I needed to ensure we were complying with the law, but I couldn't find easy to follow advice anywhere. This meant that I had to read through thousands and thousands of words to understand what we needed to do (I know I'm sad but I believe it is good for business being on the right side of the law).

Most other people in the Transport industry were also confused, so It wasn't long before word got out that somebody had actually read and understood some of the regulations. Before long I was spending all my time on the phone to Friends and Clients giving help and advice. Realising that some jargon free advice was badly needed and in an attempt to get a little of my life back, I wrote a website and created an online working time calculator. www.roadtransportworkingtime.co.uk

Like everybody else, we at 1 Call Driving Solutions occasionally have drivers breaking the "EU Drivers' Hours rules" and with the release of the "Working Time (Road Transport) Regulations" everything got even more complicated. We decided to stop analysing our own Tachographs by hand and enlist the help of an analysing service. At first we tried an Automatic analysing system, but this was a waste of time, we spent more time correcting the errors than it took us to analyse the charts by hand.

On asking around I found the most recommended solution was the long established Bureau ICP Tachograph Services. like us they were also based in Yorkshire and I quickly found both the quality of service and accuracy excellent. We only had one problem, ICP had Clients all over the country and were operating at near capacity, so they could only analyse a small percentage of our Tachos. Fortunately a solution was at hand. The introduction of digital tachographs had persuaded the owners that Technology was moving too fast for them and they decided they wanted to retire. So together with my other Directors we quickly agreed a deal to purchase the business.

Another period of intense learning followed where the previous owner pushed me until his years of knowledge were finally inserted into my little head. Eventually it all made sense to me and I found once again I could explain simply the different rules and regulations to anybody who needed to listen.

Upon finally taking over this business, we quickly realised that if we wanted to expand the Analysis service we needed a much more up to date hardware and software system. After much research and testing the conclusion we came to was that the software and equipment we needed didn't exist. If we wanted to provide a quality service to more customers we would need to create our own system.

The next 18 months were spent travelling around talking to clients ensuring that we understood their needs and designing from scratch a new system. The Tachomagic system. This doesn't just enable users to easily identify and solve Driver infringements, it also allows operators to easily take control of their company Tachographs by automating the administration procedure.

Not only is Tachomagic, easy to use, cost effective and extremely accurate, it is also secure, utilising military grade encryption to transfer the files to our trained Analysts.

All charts are still analysed by humans not machines. We use the latest technology to transfer the images but we still rely on the oldest, the human eye. When it comes to it, there are somethings a computer just can't do accurately and analysing paper charts is one of them.
Receive free legislation updates and advice on Drivers' Hours and the Working Time directive, personally from Duncan

Call me on
0113 877 0190
or leave your details below, to arrange a FREE 15 minute online demonstration
After the demonstration if you like TachoMagic we will give you a FREE trial including:
4 Weeks FREE paper chart analysis.
4 Weeks FREE digital chart analysis.
4 Weeks FREE vehicle downloads analysis.
At the end of the trial: You will have absolutely no obligation WE WILL CONTACT YOU to ask you if you want stay with us. If you don't no problem, unlike some you will not have to go through endless forms to cancel, and it we WILL NOT just roll you over into a contract.
BIG BONUS
If you arrange a demo before October 2023 I will also guarantee that should you take us up on the offer for a free trial then we will also analyse all your Driver and Vehicle digital data for the previous year for nothing (October 2022 to October 2023).

That's over 12 Months of digital analysis absolutely free!!